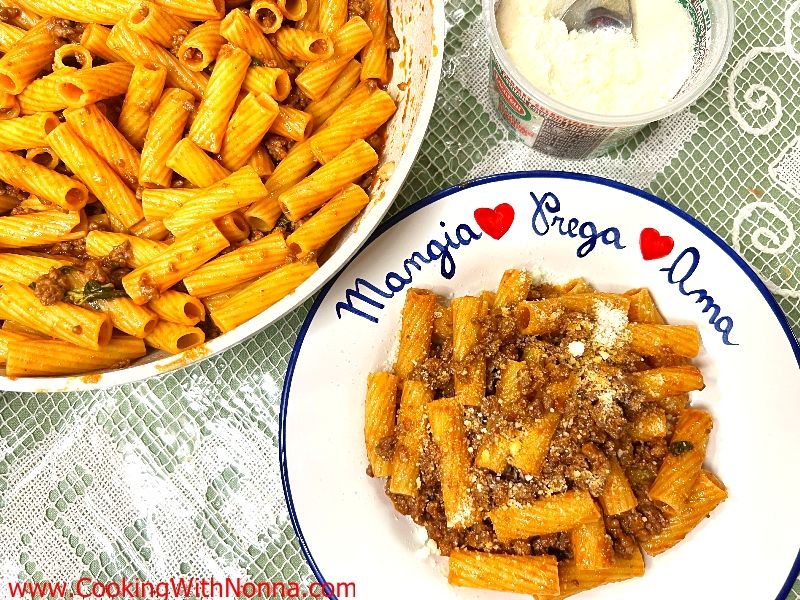 Ingredients
For 4 Person(s)
For the Sauce
3

tablespoons

extra virgin olive oil

3

cloves garlic, sliced

1/2

pound

ground beef

1

pound

sweet or hot Italian sausage, casings removed

1/2

cup

red wine, such as merlot

1/4

cup

tomato paste

1

teaspoon

salt

1/4

cup

salted butter

4

fresh basil leaves

1

pound

Pasta, Rigatoni preferably
Directions
Get the ingredients neede for this recipe HERE

Put a large skillet with a lid over a medium flame and heat the oil.

Add the beef and sausage to the pan and cook while breaking it up into small pieces with a wooden spoon. Cook until the meat has browned. About 5 minutes.
Add the garlic and cook for 1 minute.

Add the wine to the pan and cook for 1 minute.

Add in the tomato paste and salt.

Reduce the flame to a simmer and add in the basil and butter. Once the butter has melted cover the pan and cook for 30 minutes.

Drop the pasta into generally salted boiling water. Cook according to package instructions.

Drain and add the pasta to the pan with the sauce. Toss over medium-high heat for 1-2 minutes.