Torta Della Nonna
What better way for Rossella to celebrate her Birthday than with La Torta della Nonna? :) This is an old and delicious Italian dessert...a true classic! It goes well accompanied by a nice shot of Limoncello. My recipe was handed down to me in Italy and, therefore, it's in grams. I will post my ingredients in their original form. I think everyone who is serious about cooking owns a food scale. If not, they are very inexpensive and I highly recommend having one. in fact, the weight of an ingredient is much more precise than measure (cup, tbsp, etc). I hope you enjoy it as much as my family and friends do!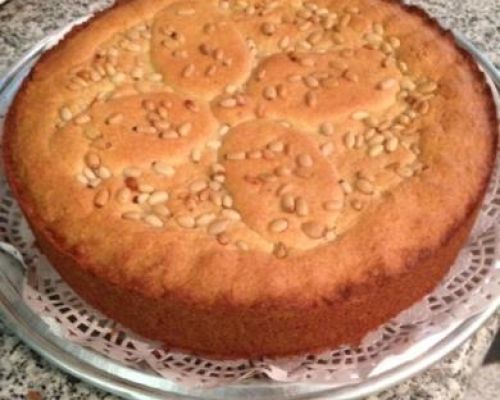 Ingredients
For 8 Person(s)
For the Pastry:
16 3/4

ounces

(475 gr) of flour (I use 00 flour from Italian shops)

7

ounces

(200 gr) of sugar

7

ounces

(200 gr) of butter (2 sticks are 225 gr- I cut off 25 gr for the cream requirement)

3

large eggs

1

lemon, peel only

1

bag of yeast (Pane degli Angeli per dolci-16gr)
For the Cream:
3 1/8

ounces

(90 gr) sugar

3

egg yolks

2 2/3

ounces

(75 gr) all purpose flour

17 1/8

ounces

(1/2 liter) milk

1

lemon, peel only

3/4

ounce

(25 gr) butter (cut off the previous list)

1/2

pinch of salt (to bring out the sweetness)
For the Topping:
Optional:
You may add to the finished cream 2 sheets of gelatin, softened in water and squeezed out, melted into 1 tablespoon of Limoncello in a pan over a very low flame.
Directions
Cut butter in small pieces.

Mix all the ingredients from the pastry list until a smooth dough is achieved.

You may do that by hand or machine (I use my KitchenAid with hook attachment).

You will end up with a dough similar in consistency to pie dough.

Wrap in plastic film and refrigerate for at least one hour.

Meanwhile, you can start the cream.

Place the milk and lemon peels in a small pan and heat at low until just lukewarm.

While the milk is heating, mix sugar and egg yolks with a wire whisk (in another pan) until light and slightly foamy.

Add the warm milk with lemon peels and continue stirring until incorporated.

Place the flour in a small sifter and add slowly to the milk mixture.

Continue stirring during this step to avoid lumps.

Add the salt and cook on low heat until the cream thickens and just begins to boil (bubble).

Do not leave the cream unattended but stir continually until it's done.

At this point, you may add the optional gelatin mixture, which is done to keep cream more solid.

Set aside to cool but cover loosely with film wrap to avoid a crust to form on the cream.

When the pastry is cold, divide it in two pieces: 2/3 of recipe for bottom and 1/3 for top.

Start with the bigger piece and put the other back in the fridge.

Place the dough between two pieces of wax paper to make rolling out easier.

Using a rolling pin, roll the dough in a circle bigger that your pan.

Remove one layer of wax paper and turn circle dough-side down.

Line the bottom and sides of a greased 25 or 26cm (about 10') sprig-form baking pan with the pastry.

This step might be tricky since the dough is sticky.

If the second piece of wax paper will not come off, place entire pan in freezer section of your fridge for 5 minutes. The paper will peel right off and you can use your finger tips to fix any mishaps with the dough.

Make sure entire bottom and sides of pan are evenly covered with dough.

Remove lemon peels from cream and stir.

Spread cream in an even layer over the pastry bottom.

Now it's time to roll out the top pastry layer.

Use same method as described for rolling out bottom but, if you need to cool off dough for easier handling, only place the top layer of dough (on a plate) in the freezer and not the entire pan as before.

Lay carefully over cream.

Pinch dough around the sides of pan to close.

Cut off any excess dough and use to decorate the top.

Sprinkle with pinoli nuts and bake at 375F for 40 minutes or until golden color is achieved.
Recipe Notes
This recipe seems difficult but it's not. I made sure to emphasize the details for easier understanding. This cake is truly an Italian classic and worth every minute of the work involved in making it. It can be served warm, room temp or cold. It's delicious regardless! :)
Categories:
Dessert & Cookie Recipes
,
Campania Recipes
,
All Recipes
,
Christmas Recipes
,
Thanksgiving Recipes
,
Easter Recipes
,
Valentine's Day Recipes
,
Mother's Day Recipes
,
Father's Day Recipes
,
4th July Recipes
,
Recipe Contest Winners
,
Easter Cakes and Cookies
,
Cakes and Pies Recipes
,
Mediterranean Diet Dessert Recipes
,
Thanksgiving Dessert Recipes
,
Nonna Antoinette Capodicci
,
Christmas Dessert Recipes