Calamari Pasta with Swordfish and Eggplant
Calamari Pasta with Swordfish and Eggplant... a great Mare e Monti dish!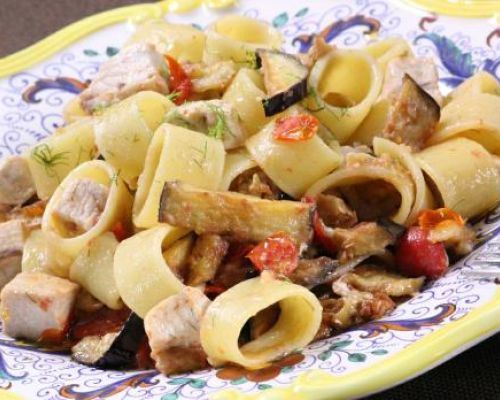 Ingredients
For 4 Person(s)
For the Pasta:
1

pound

Calamari pasta (or any kind of Pasta you prefer)

1

pound

swordfish filet cubed

2

small Sicilian eggplants (or one regular Eggplant) cut into small cubes

1

cup

cherry or grape tomatoes

a few sprigs of the branch of Fennel coarsely chopped

1/2

cup

white wine

3

cloves garlic, sliced

flour for dredging

4

tablespoons

extra virgin olive oil

oil for frying

salt & pepper to taste
Directions
Cook the pasta in salted boiling water until slightly under Al Dente and set aside.

Dredge the Eggplant cubes in flour and dust off excess. Set aside.

In a frying pan filled with hot Oil fry the eggplant in batches until golden brown and set aside.

In a large sauté pan on high heat add the Extra Virgin Olive Oil and sauté the garlic. Add the Swordfish and brown the pieces. Add the white wine and reduce the alcohol.

Lower the heat to medium. Add the Tomatoes salt, pepper and fennel and sauté for about 5 minutes or until tomatoes are tender. Add the Eggplant to the pan and cook for 1-2 minutes.

Add the Pasta to the pan and toss together for a minute or so. Turn the heat off and add more Fennel and Black Pepper before serving.
Reviews
Wednesday, 16 October 2019
Is Calamari pasta the same as squid in pasta?
- jchiar