New Year's Eve-Day Lentil Soup
Nonna's Lentil Soup... the "Must Make" recipe on New Year's Eve or Day... and any other day of the year!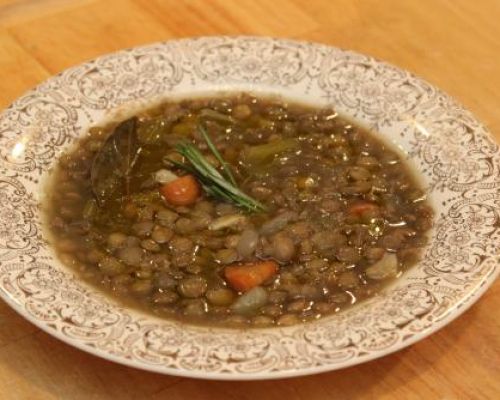 Ingredients
For 6 Person(s)
For the Lentils:
1

pound

dry lentils

4

cloves garlic, crushed

1

medium red onion, sliced

2

stalks of celery, sliced

4

bay leaves

1

generous sprig of fresh rosemary

2

carrots, cubed

hot pepper

salt

extra virgin olive oil
Directions
Wash the lentils and put them in a deep pot.

Cover the lentils with water with 1 1/2" of water above the lentils.

Add all the other ingredients except the EV Olive Oil.

Cover the pot and let all the content come to a boil. Let it boil for about 10 mins.

Uncover the pot and let it continue to cook. On the side boil some hot water and add it to the pot if the lentils become too dry.

Cook for another 10 mins. Taste the lentils and stop cooking them when they reach your desired tenderness.

Serve with a drizzle of good EV Olive Oil.
Reviews
Monday, 30 December 2019
I use a pound of lentils and a few beef marrow bones really intensifies the flavor of the soup along...
See Full Review >>
- thebigsalami
Thursday, 14 December 2017
Wonderful
- Rjwent74
Thursday, 14 December 2017
just wondering it doesn't mention how much liquid to put in pot..Is it broth or water??? It just say...
See Full Review >>
- gramma
Thursday, 08 September 2016
I have made this before. It is very good
- Richard2