Nonna's Potato Gnocchi
Nonna's Potato Gnocchi: So simple to make and can be served with any sauce you like!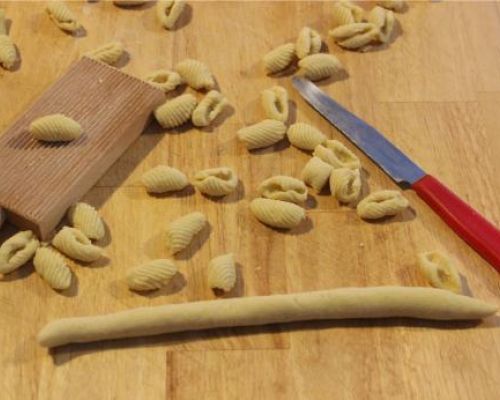 Ingredients
For 3 Person(s)
For the Gnocchi:
2

pounds

fresh mashed potatoes

1

pound

fine semolina flour or as much as the potatoes will absorb

1

large egg

1

teaspoon

salt

Get your Gnocchi Board HERE
Directions
Boil the potatoes and mash them when they are still hot.

Put them aside and let them cool off

In a large bowl beat the egg, add the potatoes, the flour and the salt.

\Mix very well until you have a firm ball of dough. If the dough is still soft, add more flour until you have a firm consistency.

Wrap the ball of dough in plastic paper and let it sit for about 30 mins.

With the Nonna Knife, cut a piece of dough, roll it into a strip about 1/2" tick and cut it into pieces about 3/4" long.

Take each piece of dough put it on a Gnocchi board, if you would like some texture, and with the tip of two of your fingers, roll the dough toward you.

Make all your Gnocchi, boil them in salted water and serve them with your preferred sauce.
Recipe Notes
PS: If you do not have a Gnocchi board, to create texture you can use the back of a fork or the back of a cheese grater!
Categories:
Nonna Romana Sciddurlo
,
First Course Recipes
,
Italian Pasta Recipes
,
Puglia Recipes
,
Easy Recipes
,
All Recipes
,
Christmas Recipes
,
Thanksgiving Recipes
,
Easter Recipes
,
Valentine's Day Recipes
,
Mother's Day Recipes
,
Father's Day Recipes
,
Homemade Pasta Recipes
,
Easy Pasta Recipes
,
Valentine's Day  Recipes
,
Mediterranean Diet First Course Recipes
,
Thanksgiving First Course Recipes
,
Christmas First Course Recipes
,
Easter First Course Recipes
,
Gnocchi Recipes
Reviews
Thursday, 14 December 2017
The egg is often used and does not compromise the Gnocchi. :) It can also be left out and they are ...
See Full Review >>
- rossella rago
Thursday, 14 December 2017
Rosella, with all due respect, my mother always used eggs in her gnocchi and she worked in her aunt'...
See Full Review >>
- aplanera
Thursday, 14 December 2017
My father was a cook , and has taught me how to make gnocchi as stated in this recipe above with an ...
See Full Review >>
- Mariam1
Thursday, 08 September 2016
sorry real italian gnocchi are made without egg, but only flour and potatoes and you just the amount...
See Full Review >>
- elvy60
Thursday, 08 September 2016
Looks simple and tasty will try
- Aracelis
Thursday, 08 September 2016
My Nunun didn't make with egg and we use only Idaho potatoes because they are dry. They are riced an...
See Full Review >>
- txsandy