Orzo Pastina with Parmigiano
Orzo Pastina with Parmigiano and EV Olive Oil... Nonna's remedy for the flu`!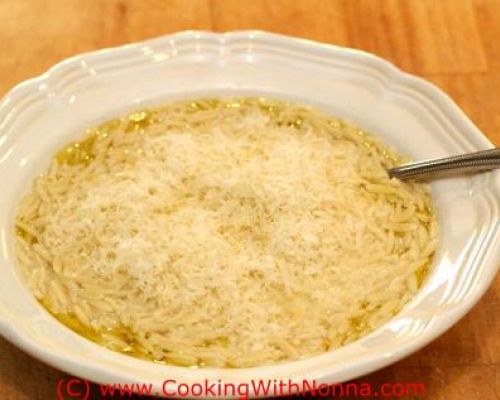 Ingredients
For 1 Person(s)
For the Pastina:
1/4

pound

Orzo pastina

1

ounce

grated Parmigiano cheese

2

tablespoons

extra virgin olive oil

salt
Directions
Pastina is available in La Bottega della Nonna

HERE!

Salt the boiling water and cook the Orzo Pastina to Al Dente.

Drain most of the water and serve with plenty of Parmigiano cheese and some good EV Olive Oil.
Reviews
Tuesday, 24 March 2020
How much water do you add???
- Annambradley
Thursday, 14 December 2017
The icon to email the recipe is on the right of the recipe name!
- rossella rago
Thursday, 14 December 2017
Love it!! Especially with a little fresh cracked/ground pepper too!
- Lesalina
Thursday, 08 September 2016
cannot read the recipe,please email it to me asap...orzo pastina with oil at tfilice@live.com
- tfilice