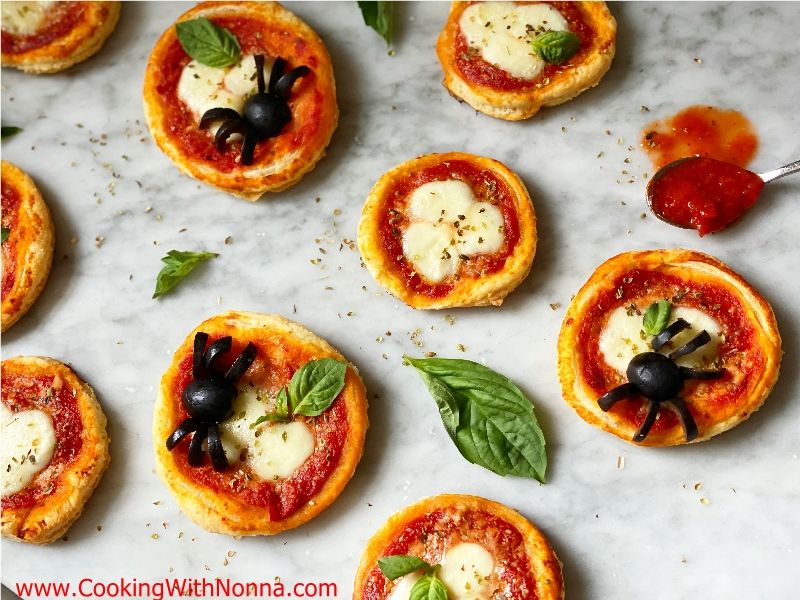 Ingredients
For 9 Person(s)
For the Pizza:
1

sheet Frozen Puff Pastry, thawed

1/2

cup

Nonna's Marinara Sauce (See Recipe Below)

1/2

cup

fresh mozzarella, shredded

1/4

cup

grated Parmigiano Reggiano cheese

a few fresh basil leaves

Optional: dried oregano for sprinkling, olives for garnish
Directions
Yield: About 9 4 inch Pizza.

Preheat your oven to 400 degrees. Line a baking sheet with parchment paper.

Using a rolling pin, roll out the puff pastry on top of a piece of parchment paper until the creases are no longer visible.

Using a 4 inch cookie cutter or a glass, cut out as many circles as you can.

Re roll any scraps and cut out more circles.

Place each pizza on the parchment lined baking sheet.

Using a sharp knife, score the edge all around each pizza, leaving a 1/4 inch border.

Dock each pizza with a fork.

Top each pizza with about a teaspoon of Nonna's Marinara Sauce (Get Recipe

HERE

).

Place some mozzarella in the center of each pizza and sprinkle with the grated Parmigiano.

Bake for 15 minutes. Top with basil leaves and sprinkle with oregano if desired and garnish with olives.