Spaghetti all'Amatriciana
Spaghetti all'Amatriciana.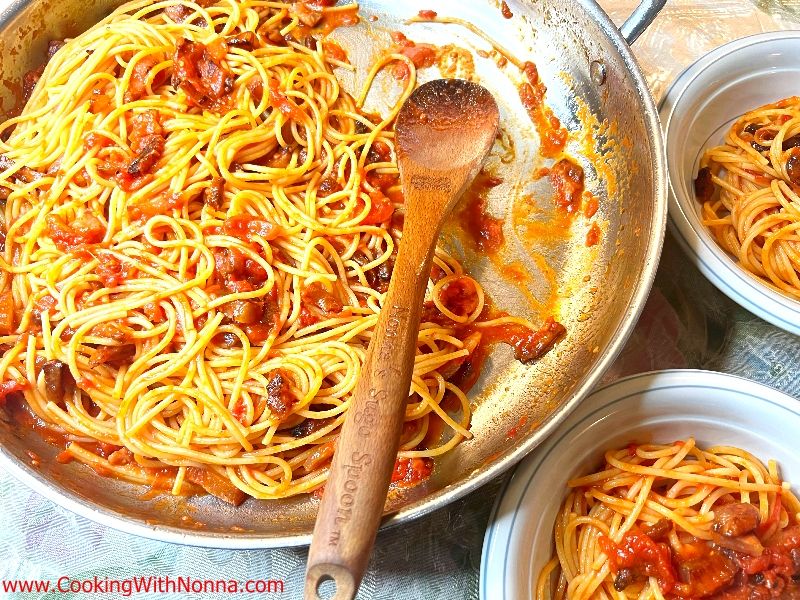 Ingredients
For 4 Person(s)
For the Sauce:
1/2

pound

Guanciale or Pancetta, cut into 1/2 inch strips or cubes

1/2

cup

white wine, such as Pinot Grigio

1

28 oz can peeled tomatoes

1/2

teaspoon

salt

1

pound

dried spaghetti pasta

1/4

cup

grated Pecorino Romano cheese, plus more for sprinkling at the end
Directions
Get the ingredients needed for this recipe

HERE

Add the tomatoes to a bowl and crush them by hand. Set aside.

Add the guanciale to a large skillet. Turn the flame on to high and cook the guanciale till crisp, about 5-7 minutes.

Add the wine to the pan and cook for about 1 minute. Add the tomatoes and salt to the pan and stir. Reduce the flame to medium stirring occasionally while the pasta cooks.

Drop the pasta into generously salted boiling water and cook until Al dente.

Add the pasta to the sauce and toss together. Remove from heat and add the cheese allowing the residual heat of the pan to melt it in.

Serve in warm bowls with an extra sprinkle of Pecorino Romano cheese.