Cavatelli ai Frutti di Mare
Cavatelli ai Frutti di Mare - Cavatelli with Seafood. The perfect dish for all holidays and special occasions.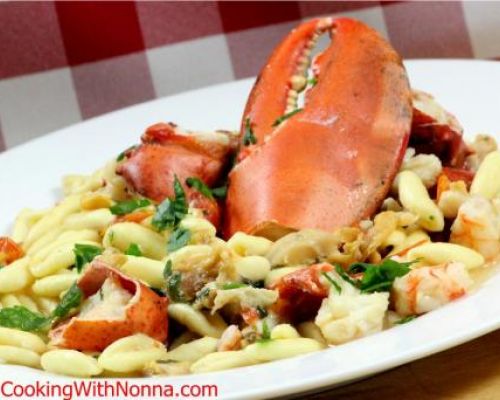 Ingredients
For 4 Person(s)
For the Pasta:
1

pound

Cavatelli - Homemade preferably

1 1/2

pound

Live lobster

1 1/2

dozen

Little neck clams, fruit removed and juice separated and filtered

1/2

pound

Shrimp

10

Cherry tomatoes, cut in half

4

Cloves garlic

1/2

cup

White wine

2

tablespoons

Fresh parsley

4

tablespoons

EV olive oil

peperoncino, as desired

salt, as desired
Directions
Split the lobster in half and remove the claws. Chop the claws in pieces and set aside.

Take the tail and saute it in a pan with a little EV olive oil for a few minutes. Remove the meat from the tail, chop it and set aside.

Separateli start boiling the cavatelli in salted water to an al dente consistency.

In a saute pan, add the EV olive oil, the garlic and some peperoncino, as desired.

Let the garlic turn blonde and add the cherry tomatoes. Let them saute for a few minutes.

Add the white wine and let the alcohol evaporate.

Add the juice from the clams and let it come to a boil. Add half of the parsley.

Add the chopped lobster claws and let them cook for 2 mins.

Add the clams, shrimp and the meat from the lobster.

Cook everything for about 7 mins.

Add the cavatelli to the sauce and toss for 2 minutes until the sauce has reduced a bit.

Add the rest of the parsley and serve.
The Cooking with Nonna Cookbook
Put one under every Christmas Tree!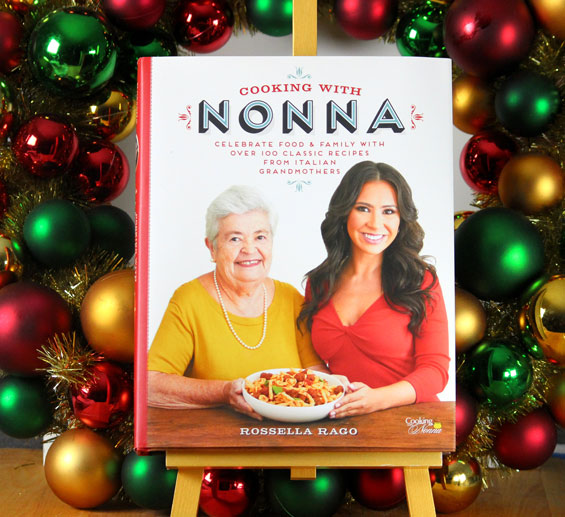 Categories:
First Course Recipes
,
Fish Recipes
,
Pasta Recipes
,
Puglia Recipes
,
Easy Recipes
,
All Recipes
,
Christmas Recipes
,
Thanksgiving Recipes
,
Easter Recipes
,
Cooking with Rossella
,
Valentine's Day Recipes
,
Cavatelli Recipes
,
Shrimp Recipes
,
Mother's Day Recipes
,
Memorial Day Recipes
,
Clams - Vongole Recipes
,
Christmas Fish Recipes
,
Valentine's Day  Recipes
,
Thanksgiving First Course Recipes
,
Christmas First Course Recipes
,
Easter First Course Recipes
,
Lobster Recipes
,
Seafood Pasta Recipes