Pizze Rustiche Muffins
Pizza Rustica (AKA Pizza Piena) is an Easter favorite but, sometimes, you have a craving for the savory egg and cheese pie during other times of the year. Well, when I do, I make these: mini pizze rustiche! They are quick and portable for breakfast on the go or take along on a picnic. I made this recipe up one day and it has become a staple in our family. Enjoy! :)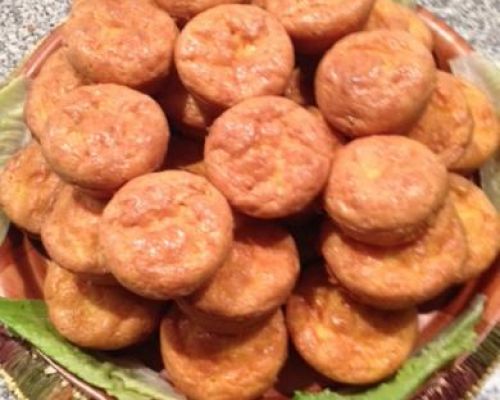 Ingredients
For 2 Dozen(s)
For the Pizze Rustiche:
18

large eggs

2

pounds

grated cheese (I use a mix of parmiggiano and pecorino)

1/2

cup

small diced prosciutto

1/4

cup

all purpose flpour (I use 00)

2

teaspoons

baking powder

ground pepper to taste
Directions
Beat the room temperature eggs with a fork

Add the cheese and stir until incorporated

Stir the flour and baking powder into the mix

You should have a mixture that is fairly dry but smooth (like cooked oatmeal). If the mixture is runny, add more grated cheese.

Meanwhile, heat the oven to 375F and grease muffin pans (don't use dark colored ones or the muffins will come out dark/overcooked)

Spoon mixture into muffin pans to about 3/4 of the way up

Bake in warm over for 30 to 35 minutes or until golden
Recipe Notes
I usually make a big batch of these muffins and freeze them once they are cool. I take a few out as needed and they are just as fresh and delicious as the day I made them after they are reheated!
Categories:
Appetizer Recipes
,
All Recipes
,
Christmas Recipes
,
Thanksgiving Recipes
,
Easter Recipes
,
Valentine's Day Recipes
,
Super Bowl Recipes
,
Mother's Day Recipes
,
Father's Day Recipes
,
Memorial Day Recipes
,
4th July Recipes
,
Labor Day Recipes
,
Thanksgiving Appetizers and Sides Recipes
,
Christmas Appetizer Recipes
,
Easter Appetizer and Side Recipes
,
Pizza Rustica Recipes
,
Nonna Antoinette Capodicci