Spaghetti with Broccoli Rabe and Vongole
Spaghetti with Broccoli Rabe and Vongole... an absolute delight!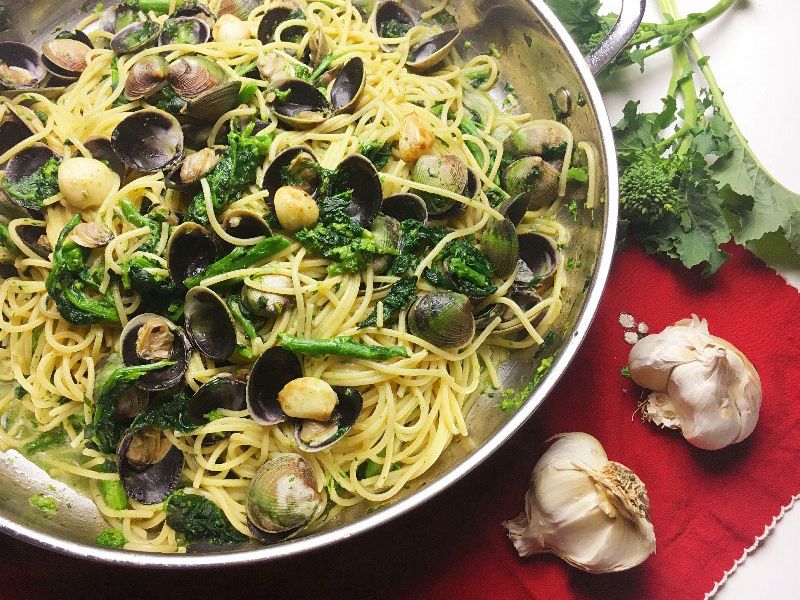 Ingredients
For 4 Person(s)
For the Pasta:
3

pounds

vongole - cockles or 3 dozens little neck clams

3

tablespoons

extra virgin olive oil

5

cloves

garlic, sliced

1/4

teaspoon

red pepper flakes (optional)

1/2

cup

dry white wine, such as Pinot Grigio

1

pound

spaghetti

1

pound

broccoli rabe, washed, ends trimmed and cut into bite sized pieces

2

cups

pasta water

2

tablespoons

fresh parsley, chopped
Directions
Add the clams to a bowl and cover with cold water. Add a handful of salt and let the clams soak for 20 minutes to allow all the excess sand to sink to the bottom. Rinse well under cold running water several times.

Put a large skillet over a medium flame and heat the oil. Add the garlic and red pepper flakes and cook until the garlic is golden and fragrant, about 30 seconds.

Add the clams to the pan.

Drop the pasta and broccoli rabe into generously salted boiling water.

Add the wine to the pan with the clams and sauté until the clams open, about 5-7 minutes.

Add the pasta, broccoli rabe and pasta water to the pan and toss over high heat until most of the water is absorbed and the pasta is Al dente. If the pan looks dry, add more pasta water as needed.

Add the parsley to the pasta and toss together. Serve in warm bowls.
Categories:
First Course Recipes
,
Fish Recipes
,
Easy Recipes
,
All Recipes
,
Christmas Recipes
,
Easter Recipes
,
Cooking with Rossella
,
Broccoli Rabe Recipes
,
Mother's Day Recipes
,
Father's Day Recipes
,
Memorial Day Recipes
,
4th July Recipes
,
Labor Day Recipes
,
Clams - Vongole Recipes
,
Christmas Fish Recipes
,
Spaghetti Recipes
,
Italian Pasta Sauces
,
Easy Pasta Recipes
,
Mediterranean Diet First Course Recipes
,
Seafood Pasta Recipes